MRE STAR Wholesaler Supplier
MRE STAR is a trusted manufacturer of high quality MRE meals for resale to traditional brick and mortar stores and/or online businesses. Our MRE meals are brand new military rations with new manufacture dates. We offer factory-direct pricing on bulk orders with low minimum purchase requirements. Our pricing on products—like the Sport MRE and the best-selling M-018H—ensure excellent margins resulting in big profits for wholesalers. High demand for MRE meals results in a fast turnaround of stock.
MRE STAR has modern, fully automated manufacturing facilities with 24/7 production capabilities so wholesalers are always guaranteed fast and reliable production and delivery. MRE STAR is an established and renowned brand of MRE meals. We can provide our wholesalers with top level sales support through quality marketing and sales materials. MRE STAR welcomes wholesale inquiries. Email our knowledgeable customer service team for more information on how to bring MRE STAR military rations to your business.
Emergency Survival Food Customer Base
One of the reasons for the high demand of MRE meals is the desire for individuals to be prepared in case of an emergency. Watching the effects of past natural disasters has taught the average citizen to be vigilant and to rely upon their own talents and planning. The government and aid organizations cannot be counted on to provide relief to everyone in disaster situations. The size and scope of disaster areas lead to logistical nightmares related to the delivery of food and water to the people who need it most. Sometimes help never comes or it comes too late.
A growing percentage of the population—from private citizens, small businesses and clubs to corporations—want to take measures to ensure their well-being during a crisis. Having a sufficient quantity of MRE meals provides peace of mind. MRE STAR's best-selling product—M-018H—features 12 complete MRE meals with an average of 1200 calories per complete meal.  The M-018H comes with a flameless ration heater packaged inside of each meal unit.  It's just a quick grab and go for a hot meal any time, any place.
Outdoor Enthusiast Customer Base
Another customer base that is expanding exponentially is the outdoor recreational enthusiast.  MRE meals are a convenient and economical food choice for an increasing number of sport and recreational participants.
Sport enthusiasts—such as hikers, cross-country trail runners, and bicyclists—need a calorie dense and easily transportable food source.
Backcountry enthusiasts—such as hunters, ranch hands, and horseback trail riders—benefits from food sources that are easy to prepare, don't require cooking over a campfire, and don't attract wildlife.
Recreational campers, motorcyclists, and off-road enthusiasts appreciate the compact size and convenience of MRE meals.
Water enthusiasts—from motorized boaters to canoeists to kayakers—enjoy the ease of preparation and the ability to enjoy a hot meal anywhere.
MRE STAR Sport MRE meals are the perfect choice.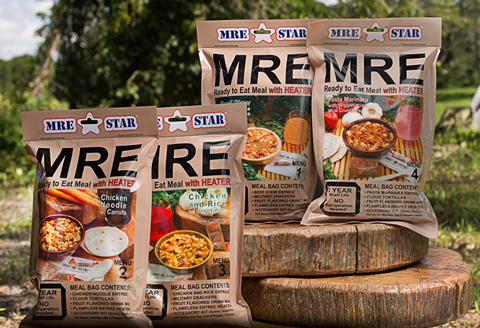 SPORT MRE – Our Newest Product
MRE STAR is consistently determined to introduce new varieties and innovative components and configurations for their military spec rations. Our newest item is the Sport MRE. The Sport MRE is a scaled down version of our best-selling Single Complete Meal, the M-018H, with retail friendly additions including a full color picture of the meal on the outer hanging bag and a lower price point.
Your outdoor and sports enthusiast customers will enjoy the ease and convenience a quick, hot and filling meal brings, anytime and anyplace.
MRE Meal Wholesalers
Whether you have a brick and mortar store or an online presence, MRE STAR can provide you with an established MRE brand, top level sales support and quality marketing and sales materials with excellent margins for a sought after product.
MRE Meals were designed to provide a delicious, nutritious and sustainable food source. These stable and long shelf life meals are the optimal choice and the perfect solution for emergency preparations, outdoor recreational activities as well as anytime a food source is unavailable or inconvenient. Anyone who could can benefit from having access to healthy food that provides the perfect security for environmental disasters and many other challenging and adverse situations.
MRE Meals are globally popular with demand only expected to rise in coming years. MRE STAR produces high quality, brand new military rations available for resale.
Call 1-866-680-6737 or email our Sales Team today.